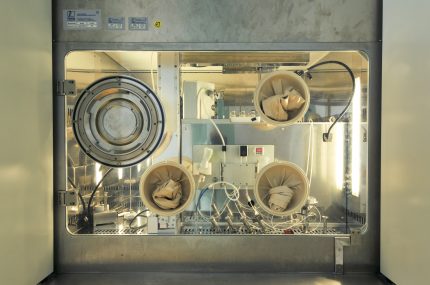 The production facilities of BIONT company meet the requirements of Good Production Practices and the EU regulations.
The company's product portfolio includes:
biontFDG, injection solution
[18F]Fluorocholine Biont, injection solution
[18F]Fluoroethyltyrosine Biont, injection solution
L‑methyl‑[11C]methionine, injection solution
[11C]Choline Biont, injection solution
[18F]-PSMA-1007, injection solution
[64Cu]CuCl2, precursor
[64Cu]-DOTA-PSMA, injection solution
[64Cu]-DOTATOC, injection solution
[18F]6-Fluoro-L-DOPA, injection solution
[68Ga]Ga-DOTA-NOC, injection solution


The prepared radiopharmaceuticals are intended for patient examination using the Positron Emission Tomography (PET). The radionuclides are produced using a cyclotron manufactured by IBA with the acceleration of negative H‑ ions to the ion acceleration energy of 18 MeV. At present, we produce radionuclides Fluorine‑18, Carbon‑11, and Copper‑64. Moreover, the facility is equipped with targets to produce Iodine‑124, Nitrogen‑13, and Oxygen‑15.
The radiochemical area intended for the production of radiopharmaceuticals is located in Grade C cleanrooms and Grade A cleanrooms, equipped with shielded cells for fully automated synthesis modules and automatic filling systems. The facility is equipped with state-of-the-art technologies. The development department is operated by qualified staff with university education background in nuclear chemistry, analytical chemistry, electrical engineering, subnuclear physics, plasma physics, and informatics. The staff's work extends to the continuous development of the technologies in use, as well as the development and introduction of new technologies used to produce PET radiopharmaceuticals.